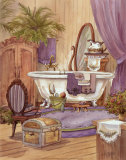 Have you ever gotten a new shower curtain and when you took it out of the package that stench just overwhelmed you? This smell is PVC plastic (#3 plastic) that out gases toxic odors that you really want to avoid if all possible. The last time we got a shower curtain I remember smelling that stench for weeks after we hung it.
Studies
have shown that these vinyl curtains contain high concentrations of chemicals that are linked to liver damage as well as damage to the central nervous, respiratory and reproductive systems, some of which can remain around for up to a month after installing.
Recently I knew it was time to replace our shower curtain because it was nasty so I looked into what was out there. Some of the options are ridiculously priced and not in our families budget. I went to Bed Bath and Beyond and found a really nice 100% Polyester fabric shower curtain liner for like $13.00. It is very nice looking and even though it is a fabric no water comes through it. These come in a variety of colors and can be used alone not just as liner. The darker colors would not show much dirt at all. I have since seen them at Wal-Mart as well and I think they were slightly cheaper. What is great about this curtain is when it gets dirty you just take it down and throw it in the washer on gentle and rehang it no need to dry. The curtain will look close to new all over again. The best thing is it will be so much healthier for you and your loved ones to not shell those harmful chemicals. I settled for like an olive green shade and have had it hanging for like 2 months now. I am so far very pleased with it.